E Series Right Angle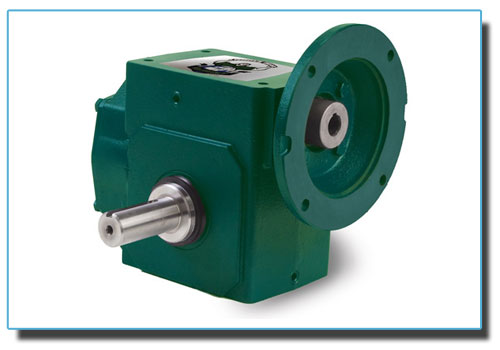 ---
Product Description
The Grove Gear IronMan E Series is a high efficiency, right angle gear reducer designed for increased torque density, reduced inventory and improved efficiency. By utilizing modified helical-bevel technology, the E Series is able to operate at 90% efficiency and can provide up to 60% higher torque than a typical worm gear reducer. Through various accessories and modular components, the E Series recreates the critical dimensions of a standard worm gearbox and provides the opportunity to reduce inventory.
Specification
4 sizes available with ratings to 27 HP.
Available in single, double & triple reduction.
Ratings from 7.8:1 to 59:1.
Standard Features
Precision machined cast iron housing provides industrial strength and durability.
Factory-filled with premium Mobil Glygoyle 460 polyalkalene glycol lubricant.
Oversized positively-retained high speed input shaft bearing for higher shock load capacity, shaft alignment and seal life. Ideal for frequent starting and reversing applications.
Tapered roller bearings on output shaft for high overhung and thrust load capacities.
Premium Grade 5 zinc-plated heat treated bolts used throughout.
Push-off holes drilled and tapped into flange for quick motor removal on quill input styles (56 & 140TC frames).
Cast iron IEC and NEMA C input flange with machined fits for precision alignment of motor and bearings.
Multiple venting options for multi-position mounting.
Robust output shaft of high strength steel alloy for superior torque and overhung load capacities.
Permanently marked nameplate with output torque, ratio and maximum input horsepower.
Mounting Dimensions allow interchange with many popular reducers.
Integral mounting bases and output flanges designed to interchange integral output flange also available to allow interchange with many industry standard sizes.
Available pre-assembled with LEESON or Lincoln Motors for the perfect GEAR+MOTOR™ package.