Aluminum (EL Series)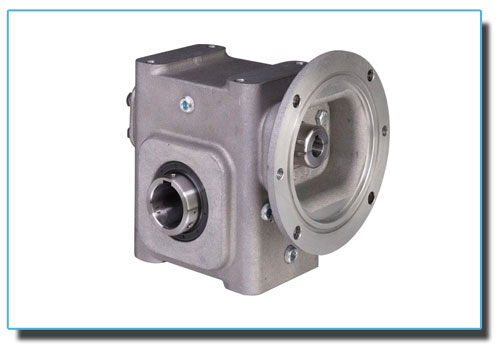 ---
Product Description
Electra-Gear offers a unique, aluminum gear reducer line, which is the most extensive of its kind in North America. Electra-Gear's aluminum products are a light weight, yet durable alternative to today's cast iron and stainless steel models, and are available off-the-shelf or customized to your exact specifications. The design provides features in a robust, aluminum, single-piece housing.
Specification
Center distances from 1.33" through 6.00" available.
Eleven sizes available to 35 HP.
Available in single, double and triple reduction.
Ratios from 5:1 to 216,000:1.
Standard Features
Aluminum housing provides superior resistances to corrosion, even in harsh environments.
Factory-filled with premium Mobil Glygoyle 460 polyalkalene glycol lubricant – USDA Class H1 approved.
Large oil capacity provides positive splash lubrication and superior cooling capability.
Viton® double lip seals provide extended life through increased resistance to high temperature, abrasion and chemicals.
O-rings on all bearing covers, eliminating gaskets, sealants and leaks.
Oversized high-speed bearings, positively retained for frequent reversing and start/stop cycles.
Tapered roller bearings on output shaft for high overhung and thrust load capacities.
The unique quill seal guard protects the input seal from damage during motor installation.
Bronze worm gear chill cast from high quality bronze for maximum strength, lubricity and superior life.
Oversized steel output shaft provides superior overhung load and torque characteristics.
All units are 100% run and leak tested at the factory to insure that you receive the highest quality product.
Ultimate application flexibility with all-angle mounting provisions, the widest selection of accessory bases and flanges and the largest selection of stock reducer styles.
Mounting dimensions are interchangeable with most industry standard reducers.
Available pre-assembled with LEESON or Lincoln Motors for the perfect GEAR+MOTOR™ package.
Accessories
T Base Worm Over
U Base Worm Under
J Mount – Vertical Input Base
F Flange
VL & VH Vertical Output Base
Hollow Shaft Tie Rod Kit
Torque Arm Bracket
R Riser Block