3 Phase Cast Iron Electric Motor,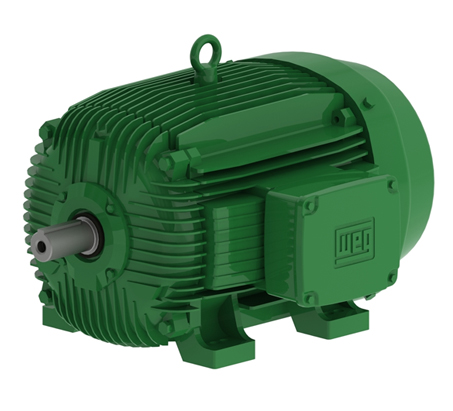 ---
Product Description
Construction
In order to answer the necessities of the customers in South Korea, WEG developed the exclusive line W21 KS according to MEPS. The result is a extraordinary line where you can find the flexibility and quality of WEG (recognized internationally) and respecting the Korean regulations.

Standard features
Three-phase, multivoltage, IP55, TEFC;
Output: 0,75 up to 200 kW
Number of Poles: 2, 4 and 6
Frames: 80 up to 355M/L
Frequency: 60 Hz
Mounting: B3R
Voltage: 380 V with 6 leads
Class "F" insulation (ΔT = 80K)
WISE® (WEG Insulation System Evolution) insulation system - Suitable for inverter duty applications*
Service factor: 1,15
Continuous duty: S1
Design N
Thermistors (1 per phase) for frame sizes 225S/M to 355M/L
V-Ring seal for both endshields
Regreasing niple for frames 225S/M to 355M/L
Stainless steel nameplate AISI 316
Fans: Plastic made for frames 80 to 315S/M and Aluminum made for frame 355M/L
Fan Covers: steel made for frames 80 to 132 and cast iron made for frames 160M to 355M/L
Regreasing nipple for frame sizes 225S/M to 355A/B
Color: RAL 6002
*For additional details about Inverter operation, please contact our technical support. *Special Insulation for voltage above 575V.
Optional features available
Other voltages
Design H
Class "H" insulation
Thermal protection
Thermostats or RTD-PT 100 on winings and bearings
Degree of Protection: IP56, IP65, IP66, IPW56, IPW65 or IPW66
Bearing seals
Lip seal
Oil seal
Labyrinth taconite seal and W3 Seal
Additional terminal box
Space heaters
Fans: Aluminum or Cast Iron
Drip cover for vertical applications
Double shaft end
Encoder
Cable glands in plastic and brass
Blower kit (TEBC)
Roller bearings (for frame sizes 160 and up)
More options available, on request
Special Features
The brake motors are simple & rugged & so easy for maintenance.
No separate DC supply is required as the rectifier is provided which gives the required DC voltage for energisation of the brake.
The rectifier is mounted inside the main terminal box so no separate terminal box required.
General guidelines for selection of suitable Brake Model

The Brakes are rated by torque & selection of suitable model can be made by calculating the required torque, rating of the brake & then matching it with static torque.
Torque (Nm) = 9550 x (KW / RPM) x Safety Factor (SF)
Where kW-Kilowatts of motor
RPM-Speed of motor
SF-Safety Factor depending on type of prime mover & load.
For electric motor, SF = 2 to 3
For diesel engine, SF = 4 to 5
For compressor, SF = 5 to 6.
Hindustan Brake motors can be used in many applications. A few of them are listed below;
Machine tools
Textile machinery
Cranes & hoists
Printing Machinery
Material handling equipments
Geared motors
Cable reeling drums
Rolling mills